The following recap is provided by Art Melendres "US17850 One Time"
The Cal 25 saw its first vessel launched in 1964. Subsequent to that they built and launched a couple thousand of them. One would think that a boat so "long in the tooth" would be old, tired and pretty much out of favor in today's environment. Not so. They're still out there cruising, racing and to the Sailors in Detroit, they represent the most popular and competitive fleet on the Great Lakes.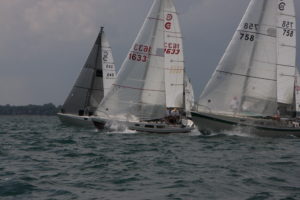 The 2017 edition of the Cal 25 Nationals was being competed in the Detroit area and co-hosted by both Bayview Yacht Club and Crescent Sail Club. There was talk of twenty-four boats scheduled to compete. This turned out to be false. Fact is they had twenty-eight. Had all the 25s in the harbors gone out there could have been as many as forty boats on the line. My boat "One Time" was fortunate enough to be one of them.
My crew and I purchased a trailer, modified it for the job and then purchased a Dodge diesel "dually" for the trip. Once ready, off it went for a 2700 mile, four day odyssey from Long Beach to Detroit. Much weather along the way but that's a story for another day. It is chilling however to drive into Tulsa a few hours after a tornado hit and view the damage.
Upon arrival at Bayview Yacht Club we were met with the utmost in hospitality and good will. They couldn't have been nicer or more helpful.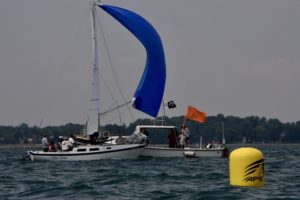 The Regatta consisted of three days of racing (and partying) on Lake St Clair, which is known for being approx. eight feet deep throughout. You have to be able to drive "chop" if you want to compete here. The competition was extremely stiff what with an abundance of professional sailors in attendance as well as a whole bunch of highly skilled amateurs. The starts were chaotic to say the least. Just imagine 28 boats all hitting the line at the same time and all looking for a competitive edge. General Recalls were in abundance. Penalty flags started flying liberally.
For the first race the wind was up above 15 knots and we ended up taking a bullet. Ditto for race #2. Things were looking good. Long Beach wind conditions were in effect and we milked it for all it was worth. Unfortunately it didn't last. The wind subsided with each additional day of racing and local knowledge came in to play a heavy role. At the end of the Regatta we finished in 9th place. Out of the money but not bad for a family crew and never having sailed there before.
In retrospect it was a great regatta and a great honor to represent Long Beach Yacht Club once again. Our hosts and fellow competitors were absolutely terrific. You couldn't ask for better camaraderie. Old friendships were rekindled and new ones made. Memories forever.
My thanks and appreciation to the Yachting Committee for their encouragement, support and assistance. Couldn't have done it without you.
Click here to see McAllister's Recap
Click here to view National Championship Sponsors