The management at CAL25.ORG copies and posts whatever the Cal 25 owner/seller sends us.  We do not verify or warrant any information contained within these ads or the information forwarded to us.  Furthermore, we are not responsible for any transactions conducted.
Cal 25 Sailboats for sale...

| Details | Sail # | Yr Built | Yacht Name | Price (USD) |
| --- | --- | --- | --- | --- |
| See Ad | 630 | 1967 | Stray Dog | 3700 / 4900 |
| See Ad | 1084 | | Solvo | 2500 |
| See Ad | | 1972 | Risky Biz | 4800 |
| See Ad | | 1972 | Doris | Call |
| See Ad | | 1978 | Nettie | Call |
| See Ad | 3513 | 1967 | Boatzilla | 4800 |
CAL 25 Stray Dog #630
$3700 no engine or $4900 with 4 year old year old 6 HP Tohatsu engine deep shaft and 5 year warranty.
Hull

Rebuilt 1967 Cal 25
Bottom done 2014, and redone 2017
Awlgripped hull Dark Blue with Graphics
Bow pulpit 2017 ($300)
Added Stern Rail 2016 ($300)
All Running rigging spin main and jib lines

Sails

Main and 150, 70% value
Main cover
No 3 battens, older functional
3 total Mains
Jibs various others all sizes older
Storm jib
2 Spinnakers older

Deck

Refit jib tracks 2016
Reinforced and rebedded Lice line Stanchions 2017
Boom kicker new 2016 ($300)
All running rigging spin main and jib lines
Cockpit cruising cushions 2015
New companionway cover Sunbrella 2015 ($425)

Interior

Newly 2015 made sleeping cushions, polyester canvas and vinyl bottom ($1200)
New 110V install with Breakers 2015 for safe shore power ($350)
New Bilge pump 2014 and full tubing replacement ($200)
New VHS radio 2013
Anchors, rode and 150 line

Optional buys:

New 6 horse deep shaft Tohatsu 2014 ($1200) 5 year warranty with 1 yr remaining
Mast beam available Brand New Ron Sherry made ($325)

 
Active and terrific SE Michigan Cal 25 Association!
Great mentors and support.
Contact Joe Lucido at 313-919-5652, or Email
CAL 25 Solvo#1084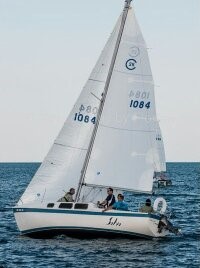 Hull 1084 — BYC, Detroit — $ 2,500
All sails, motor, running rigging
New 150% Jib- 2016; 150% heavy air- 2015
New Spinnaker 2014, plus backup
Loose-foot main, 105% jib, storm jib, others
8 hp Nissan 4-stroke Elect Start long shaft
Radio, head & holding tank
Dual compasses, depth, speedo, 2 bilge
Cabin-top self-tailing winches
New cabin sole & stringers – 2016
WINNER, Cal-25 North Channel — 2015
Completed Port Huron to Mac Race – 2015
Please contact James Morphew via Email or call 248-760-3306
1972 CAL 25 Risky Biz
1972, Cal -25 is in good condition. Stored in Tenants Harbor, Me. It has (2)Mainsails, Genoa, Working Jib and Spinnaker, 7.5 long shaft Mercury outboard. Have owned for 20 years and sailed regularly up to 2012. Solid decks and new rigging, boat has thick fiberglass with no hull blisters, clean and well maintained from top to bottom. Ready to sail this spring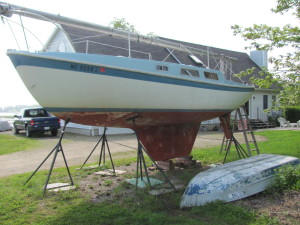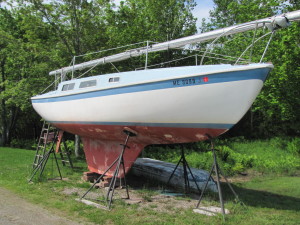 $4,800 Please contact Mike Bolton via Email.
1972 CAL 25 "Doris"
Doris is a 1972 Cal 25. Sails are in great condition.
It's located Marina del Rey, CA. The slip can be transferred upon the approval of the marina, and it is only $260 per month.
The Suzuki Outboard motor is in excellent condition. We will include a routine service at Anderson Marine on the motor upon commitment to buy.
The bottom of the boat is cleaned monthly.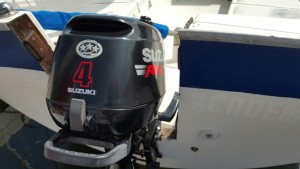 Please call Erika at (602) 679-4655 or Email me if you're interested.
Cal 25  (1978)  for sale
Boat Name: Nettie
She is a Lake Tahoe sweet water Cal 25 built in 1978 and lovingly cared for. Recovered cabin cushions…inboard Yanmar Diesel..Neil Pryde Spinnaker& pole..Digital Depth Sounder..Harken roller Furling…Signet Knot Meter…RItchie Pilot Series Auto Pilot..4 large rubber fenders…Coleman propane stove…enclosed permanent head…SeaHawk 14 Marine Radiotelephone…Alpine compact disc receiver…anchor/chain..misc extra gear. I hate to part with her but I'm 85 now. She is currently here in SLC on her trailer and shrink wrapped.
Call Bruce — 801 495-1404, SLC, UT
Cal 25  #3513 (1967)  for sale
1967 Jensen Marine Cal 25
Length – 25 feet Beam — 8 feet Draft 4′ – Hull material Fiberglass
Sail Number: 3513
Boat Name: Boatzilla
The Cal 25 for sale here is a decked out version that's been well maintained. The transom, windows, forward hatch and mast step have been rebuilt. The woodwork including the tiller has been refinished. And it's setup for ease of use with a Furler, autopilot and a Honda engine.
Boatzilla currently resides in Milwaukee. This boat is fully functional with decent used equipment that covers everything needed to go sailing. It is old and looks the part for sure but is intact and wanting to hang with its buddies in your fleet! I have an excellent boat transportation resource which would make it easy to get to you.
Sails & Rigging — Aluminum mast stepped on deck.
Recently serviced Haarstick mainsail and 150% Genoa head sail on a Harken 00 Furler. It even has a Spinnaker pole and an older symmetrical spinnaker. Boom-vang.
Galley is equipped with a stainless steel sink and a single 15000btu catering style burner. Forward cabin double berth, Single berth in Salon, dinette converts to another double. Head (bathroom) has a newer style Jabsco toilet.
Spacious 8′ cockpit.
Instruments — compass, Fishfinder with depth sounder, VHF radio with DSC, Simrad TP100 autopilot.
Updated Electrical — (12V DC electrical system), one battery, solar panel, interior and navigational lights
Engine: 4 stroke Honda 9.9hp outboard motor with alternator. Freshly rebuilt carburetor.
Built in fuel tank (most Cal25's do not have this feature which is dramatically safer than a loose gas can).
Includes tow-able 4 wheel cradle. Could be made into street trailer. Dingy included too!
$4800/OBO — ready to sail, will be launched in McKinley Marina, perfect for first-time owner – must see!
Serious Inquiries only:  Bill Backes 414-813-9663   bLLbackes@gmail.com
Championship Racing Sails  I have won many regattas and three consecutive Cal 25 Season Championships with the sails listed below. They still have a lot of racing left in them…
$475 – Doyle 150% AP Genoa
$700 – 2013 North 150% AP Genoa
$550 – 2013 North Main
$650 – 2015 North Main
… make an offer. Sails come with sail bags and battens; ready to race.
Email John McAllister (US466 Patriot) or call 313 506-8185

Doyle Sail number 3 PHRF Racing Sail made for Cal 25.  Used 3 times within local racing Bay City MI on 25 Oday. Purchased from Doyle Detroit Shop like new condition,  original cost $1,000  asking  $ 750.
Email Kim Haller  or call 989 980-0303
All sails are in good working condition – all have been Checked over within a year and will be gone over before I sell.
150% Genoa – Doyle Boston approx, 2004. I used it as my heavy number 1.
150% Genoa – Doyle Tape drive approx, 2008. It was my AP number 1.   SOLD
150% Genoa – Dacron. The original Genoa with my boat was a 170%, which was either made small or shrank – now measures just below a 150%.
1 "Lapper"- Dacron approx 120-130%. 1971 ext. Sheets on a forward track. Old soft Dacron. It was my cruising sail.
Main-Doyle – loose footed. Pretty decent racing sail, when the wind picks up sail shows signs of stretching. nice tapered battens. Battens worth probably $80-$100.
Mylar 150's% – $300 obo.
Dacron 150% – $150 obo
Dacron Lapper – $125 obo
Main-$300 obo.
Email Patrick or call 704 968-3025
Cal 25  Parts for Sale
For sale is one Cal 25 rudder & rudder tube. Tube is hand layed woven roven & carbon fiber. I used MAS epoxy, the tube is strong and stuff. Asking $150.00. Recommend local pick up in the greater Puget Sound. Item location is Shelton, Washington, 98584.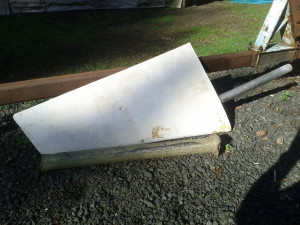 Contact Gary Esterly: springcreekwoodnboatworks@gmail.com
Note – the Cal 25 Class rules prohibit exotic material use such as Carbon Fiber under our One Design racing rules. The use of exotic materials will prohibit you from racing legally.
Pop Top Support Arms – great shape 2 for
$50
Life lines (poor) & Stanchions (good shape)-  $25
Rudder, in good to fair shape: $100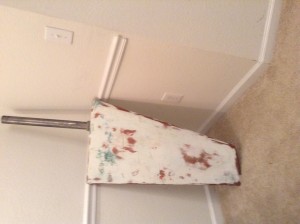 Plus shipping from Raleigh, NC
Chris Hansen
chrishindy@hotmail.com
Wanted:
  Affordable Sails.
I am in the process of restoring a 1965 Cal 25 (Jarvis) and in need of affordable sails.  I can afford a little shipping as well.   Contact Glenn Sawyer 
Email
Wanted : 
A Cal 25 trailer in very good to excellent condition.
Please contact the Cal 25 webmaster: 
webmaster@cal25.org
To post your Cal 25 boat/articles for sale please do the following:

Include a brief description of the boat/articles, condition of hull and sails.
Remember to INCLUDE the City/body of water where the Cal 25 is located.
If you like, e-mail a small (less than 75K file size) picture with the ad.
E-mail your ad request via this button

Email

Inform your buyer about Cal25.org, we want to keep your boat sailing actively!
Let us know when you sell your boat or item so the ad can be removed.

Classified Advertisement

Place a personalized advertisement for your boat, sails or anything else you wish to sell. Your donation will go towards supporting future advertisements and this website.

$20.00