The management at CAL25.ORG copies and posts whatever the Cal 25 owner/seller sends us.  We do not verify or warrant any information contained within these ads or the information forwarded to us.  Furthermore, we are not responsible for any transactions conducted.
Cal 25 Sailboats for sale...

| Details | Sail # | Yr Built | Yacht Name | Price (USD) |
| --- | --- | --- | --- | --- |
| See Ad | 17850 | Hull #50 | One Time | 6000 |
| See Ad | 1084 | | Solvo | 2500 |
| See Ad | 1600 | | Caliente | 2100 |
| See Ad | | 1972 | Risky Biz | 4800 |
| See Ad | 1404 | 1971 | | 2600 |
| See Ad | | 1972 | Doris | Call |
| See Ad | | 1978 | Nettie | Call |
| See Ad | 3513 | 1967 | Boatzilla | 4800 |
| See Ad | 835 | | | 3300 |
CAL 25 One Time #17850
One Time is Hull #50 and possesses the "A" style interior. This boat has won three National Championships, nine Southern California Regional Championships, fifteen Fleet V Championships, eight Wet Wednesday Championships, four Long Beach Race Week Championships and many additional major regattas and weekend race wins. One Time may possibly have the most winnings in Cal 25 history.
The boat is completely legal, as per Cal 25 rules and regulations. The boat comes with an abundance of modifications (too many to list) that make it crew friendly and highly efficient for both racing and cruising. She is clean both inside and out. Everything on this boat is in prime working condition. A new racing bottom was put on it in June 2017. There is no better boat on the market than One Time. The boat will be sold with some of its sail inventory.
The asking price is firm at $6,000. Please consider the cost of bringing a lesser priced boat up to racing speed. One Time is ready to sail the moment she is put on the water. One Time will be competing at the 2017 Detroit National Championships, if you are interested in taking a closer look.
Please contact Scott Melendres via Email
CAL 25 Solvo#1084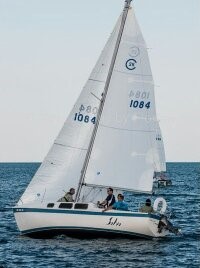 Hull 1084 — BYC, Detroit — $ 2,500
All sails, motor, running rigging
New 150% Jib- 2016; 150% heavy air- 2015
New Spinnaker 2014, plus backup
Loose-foot main, 105% jib, storm jib, others
8 hp Nissan 4-stroke Elect Start long shaft
Radio, head & holding tank
Dual compasses, depth, speedo, 2 bilge
Cabin-top self-tailing winches
New cabin sole & stringers – 2016
WINNER, Cal-25 North Channel — 2015
Completed Port Huron to Mac Race – 2015
Please contact James Morphew via Email or call 248-760-3306
CAL 25 Caliente #1600
Ideal for one design AYC Frostbite series – EYC Summer Beer Can series and weekend cruising. Boat purchased from original owner and refurbished in 2005-2006. (Bottom and roof re-done) Boat not sailed since 2010 because of hip replacement. Boat 2009 Eastport YC beer can series winner. Great light air performer.
Boat is rigged for one design non-spinnaker racing in Annapolis YC Frostbite series, and Eastport YC summer beer can series. All lines led to cockpit, boom vang to carry boom and help trim boom. Includes ICOM VHF, anchor & rhode, Ray Marine depth and knot meter. Jib with one year of use plus main with three. Additional older sails. All cushions in good condition. Boat doesn't have outboard, or spinnaker pole.
Boat near Annapolis, MD on Severn River. $2100
Please contact Lee Meadows via Email.
1972 CAL 25 Risky Biz
1972, Cal -25 is in good condition. Stored in Tenants Harbor, Me. It has (2)Mainsails, Genoa, Working Jib and Spinnaker, 7.5 long shaft Mercury outboard. Have owned for 20 years and sailed regularly up to 2012. Solid decks and new rigging, boat has thick fiberglass with no hull blisters, clean and well maintained from top to bottom. Ready to sail this spring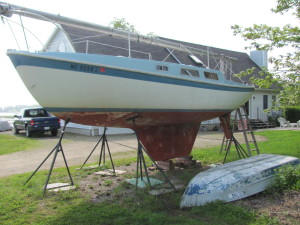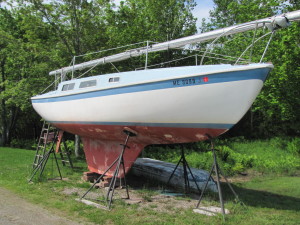 $4,800 Please contact Mike Bolton via Email.
1971 CAL 25 #1404
C-Model Hull: Apple green, dark green stripes, deck light blue
Race equipped: 4 winches, spinnaker pole, Jib/Genoa track with cars, 2 winch handles, tiller extension
Sails: well used Dacron main, 130 jib, 150 jib fair, 170 Genoa. Storm jib like New. Spinnaker Good condition. Jib sheets & Spinnaker sheets Good condition
Outboard Motor: 9.9 Hp Evinrude 1975 electric start, Good condition; long shaft, 6 gal metal fuel tank
Stern pulpit, double gate life lines
Antenna and wiring for radio, 1978 VHF radio
Compass, running lights, cabin lights, 4yr old battery
Anchor with line
Galley: Starboard side, Formica counter, stainless sink, storage drawers & cabinets. Dinette table port side
Hatch screens
Dry dock wood cradle
Needs mast head wind vane replacement & knot meter work.
Green fabric/foam cushions for dinette area, also fore and aft bunk cushions, very Good condition
Cockpit cushions, custom 4″ white vinyl, very good condition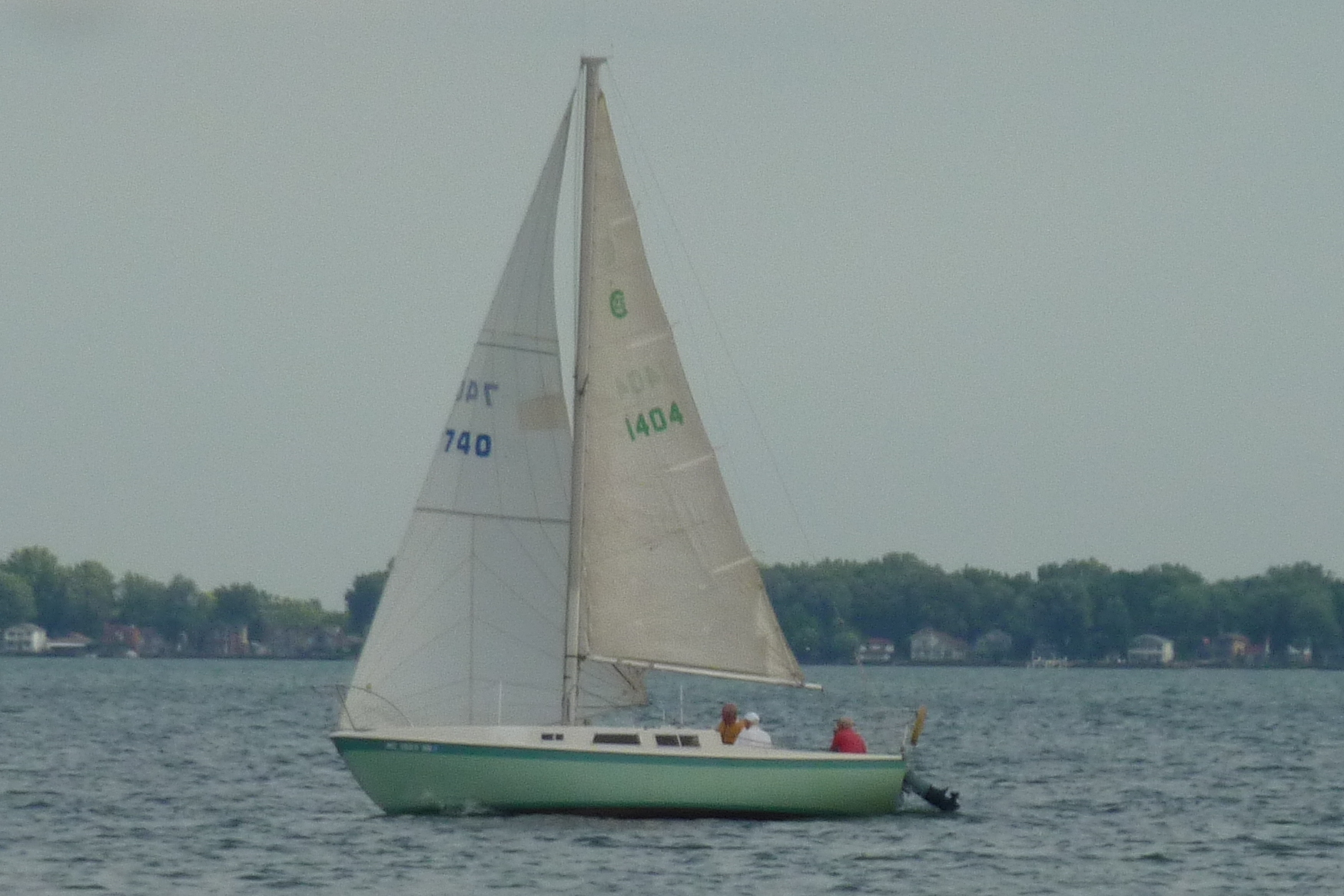 2015/2016 Jefferson Beach winter storage paid
Asking $2,600 or best offer.
Contact Tom Kressbach at 313-886-5698, or Email
1972 CAL 25 "Doris"
Doris is a 1972 Cal 25. Sails are in great condition.
It's located Marina del Rey, CA. The slip can be transferred upon the approval of the marina, and it is only $260 per month.
The Suzuki Outboard motor is in excellent condition. We will include a routine service at Anderson Marine on the motor upon commitment to buy.
The bottom of the boat is cleaned monthly.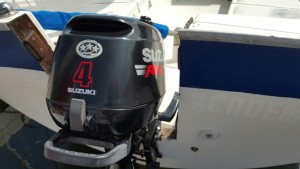 Please call Erika at (602) 679-4655 or Email me if you're interested.
Cal 25  (1978)  for sale
Boat Name: Nettie
She is a Lake Tahoe sweet water Cal 25 built in 1978 and lovingly cared for. Recovered cabin cushions…inboard Yanmar Diesel..Neil Pryde Spinnaker& pole..Digital Depth Sounder..Harken roller Furling…Signet Knot Meter…RItchie Pilot Series Auto Pilot..4 large rubber fenders…Coleman propane stove…enclosed permanent head…SeaHawk 14 Marine Radiotelephone…Alpine compact disc receiver…anchor/chain..misc extra gear. I hate to part with her but I'm 85 now. She is currently here in SLC on her trailer and shrink wrapped.
Call Bruce — 801 495-1404, SLC, UT
Cal 25  #3513 (1967)  for sale
1967 Jensen Marine Cal 25
Length – 25 feet Beam — 8 feet Draft 4′ – Hull material Fiberglass
Sail Number: 3513
Boat Name: Boatzilla
The Cal 25 for sale here is a decked out version that's been well maintained. The transom, windows, forward hatch and mast step have been rebuilt. The woodwork including the tiller has been refinished. And it's setup for ease of use with a Furler, autopilot and a Honda engine.
Boatzilla currently resides in Milwaukee. This boat is fully functional with decent used equipment that covers everything needed to go sailing. It is old and looks the part for sure but is intact and wanting to hang with its buddies in your fleet! I have an excellent boat transportation resource which would make it easy to get to you.
Sails & Rigging — Aluminum mast stepped on deck.
Recently serviced Haarstick mainsail and 150% Genoa head sail on a Harken 00 Furler. It even has a Spinnaker pole and an older symmetrical spinnaker. Boom-vang.
Galley is equipped with a stainless steel sink and a single 15000btu catering style burner. Forward cabin double berth, Single berth in Salon, dinette converts to another double. Head (bathroom) has a newer style Jabsco toilet.
Spacious 8′ cockpit.
Instruments — compass, Fishfinder with depth sounder, VHF radio with DSC, Simrad TP100 autopilot.
Updated Electrical — (12V DC electrical system), one battery, solar panel, interior and navigational lights
Engine: 4 stroke Honda 9.9hp outboard motor with alternator. Freshly rebuilt carburetor.
Built in fuel tank (most Cal25's do not have this feature which is dramatically safer than a loose gas can).
Includes tow-able 4 wheel cradle. Could be made into street trailer. Dingy included too!
$4800/OBO — ready to sail, will be launched in McKinley Marina, perfect for first-time owner – must see!
Serious Inquiries only:  Bill Backes 414-813-9663   bLLbackes@gmail.com
Cal 25 (1971) #835 for sale
For sale: 1971 Jensen Marine CAL 25 C configuration hull#1035 & Sail #835
For it's age, this boat is in decent condition and is sailed in Bayview Yacht Club regattas on a regular basis.  Unfortunately, I have been unable to find the time and crew to race the boat on a regular basis and because of this, I can no longer justify the expense of owning this well setup racing boat.
There are a couple important things that will need attention.  The mast step beam has rot where the chain plates penetrate the deck.  The chain-plates are securely attached to the bulkhead and there is no concern with them pulling through the deck.  There are several temporary "fixes" for this but the solution is to replace the beam completely.  New beams are available locally for a modest price.  The deck is solid and cabin solid.  Stringers are completely dry and as solid as the day they were built.  The cabin will need a new paint job, I speculate that the previous owner painted it but for some reason the paint didn't stick, it's peeling mostly everywhere.
Here's what it comes with:
SAILS:
– Main Sail (usable, not great)
– Doyle #1 Jib (good condition)
– Very old Hood #1 Jib (poor condition, best used for cruising and deliveries)
– Doyle #3 storm jib (excellent condition)
– Doyle Spinnaker (good condition)
RUNNING RIGGING:
Jib Sheets
Spinnaker sheets/guys
Spinnaker Pole
Harken Traveler
Harken Jib leads, tracks and cars
Lewmar self tailing primary winches
Barrient cabin top winches
Hard boom vang
12:1 purchase backstay tension adjustment
Lewmar rope clutches
STANDING RIGGING:
Mast has grooved channel for main sail.
Halyards are lead internal to the mast.
Ronstan shrouds and chain plates.
POWER:
(purchase will include the following)
– Mercury 7.5HP 2-stroke, long shaft outboard motor (mid 80's) in excellent physical and mechanical condition.
– Chrysler Sailor 180 7.5HP 2-stroke long shaft outboard motor is running condition (mid 80's vintage) it should be gone over by a mechanic to ensure reliable operation.
OVERALL APPEARANCE:
Boat looks decent for it's age.  I have repaired MANY drill holes in the deck that were filled with 5200.  All 5200 was removed and holes were re-drilled, countersunk and filled with West Systems epoxy resin.  The Starboard rear stanchion pulled through the deck and was fixed using fiberglass, epoxy and solid backing material.  I glassed in new backing plates on all load bearing deck hardware, winches, cam cleats and clutches.
In conclusion, this is a great boat!  It needs attention in the areas mentioned above but is usable in it's current state (raced it last wekend) of repair.  It's very well equipped from a running rigging perspective, it's the only CAL 25 i've seen that is equipped the way this is.
The CAL 25 class in Detroit is one of the largest and most active in the country.  Bayview Yacht Club and Crescent Sail Yacht Club are where the majority of the fleet is located.
Boat is in the water at Bayview Yacht Club in Detroit and can be viewed and sailed by appointment.
Asking Price:  $3,300
Blake (586) 718-0331
Championship Racing Sails  I have won many regattas and three consecutive Cal 25 Season Championships with the sails listed below. They still have a lot of racing left in them…
$475 – Doyle 150% AP Genoa
$700 – 2013 North 150% AP Genoa
$550 – 2013 North Main
$650 – 2015 North Main
… make an offer. Sails come with sail bags and battens; ready to race.
Email John McAllister (US466 Patriot) or call 313 506-8185

Doyle Sail number 3 PHRF Racing Sail made for Cal 25.  Used 3 times within local racing Bay City MI on 25 Oday. Purchased from Doyle Detroit Shop like new condition,  original cost $1,000  asking  $ 750.
Email Kim Haller  or call 989 980-0303
All sails are in good working condition – all have been Checked over within a year and will be gone over before I sell.
150% Genoa – Doyle Boston approx, 2004. I used it as my heavy number 1.
150% Genoa – Doyle Tape drive approx, 2008. It was my AP number 1.   SOLD
150% Genoa – Dacron. The original Genoa with my boat was a 170%, which was either made small or shrank – now measures just below a 150%.
1 "Lapper"- Dacron approx 120-130%. 1971 ext. Sheets on a forward track. Old soft Dacron. It was my cruising sail.
Main-Doyle – loose footed. Pretty decent racing sail, when the wind picks up sail shows signs of stretching. nice tapered battens. Battens worth probably $80-$100.
Mylar 150's% – $300 obo.
Dacron 150% – $150 obo
Dacron Lapper – $125 obo
Main-$300 obo.
Email Patrick or call 704 968-3025
Cal 25  Parts for Sale
For sale is one Cal 25 rudder & rudder tube. Tube is hand layed woven roven & carbon fiber. I used MAS epoxy, the tube is strong and stuff. Asking $150.00. Recommend local pick up in the greater Puget Sound. Item location is Shelton, Washington, 98584.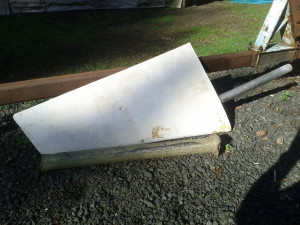 Contact Gary Esterly: springcreekwoodnboatworks@gmail.com
Note – the Cal 25 Class rules prohibit exotic material use such as Carbon Fiber under our One Design racing rules. The use of exotic materials will prohibit you from racing legally.
Pop Top Support Arms – great shape 2 for
$50
Life lines (poor) & Stanchions (good shape)-  $25
Rudder, in good to fair shape: $100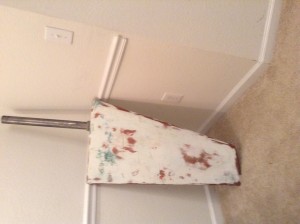 Plus shipping from Raleigh, NC
Chris Hansen
chrishindy@hotmail.com
Wanted:
  Affordable Sails.
I am in the process of restoring a 1965 Cal 25 (Jarvis) and in need of affordable sails.  I can afford a little shipping as well.   Contact Glenn Sawyer 
Email
Wanted : 
A Cal 25 trailer in very good to excellent condition.
Please contact the Cal 25 webmaster: 
webmaster@cal25.org
To post your Cal 25 boat/articles for sale please do the following:

Include a brief description of the boat/articles, condition of hull and sails.
Remember to INCLUDE the City/body of water where the Cal 25 is located.
If you like, e-mail a small (less than 75K file size) picture with the ad.
E-mail your ad request via this button

Email

Inform your buyer about Cal25.org, we want to keep your boat sailing actively!
Let us know when you sell your boat or item so the ad can be removed.

Classified Advertisement

Place a personalized advertisement for your boat, sails or anything else you wish to sell. Your donation will go towards supporting future advertisements and this website.

$20.00