Curtesy of Spinsheet     http://www.spinsheet.com/everyman-boat-cal-25
Posted April 4, 2014
One of the great myths of sailing is that you have to have deep pockets to enjoy the sport. While it is true that some discretionary income is required, the annual cost of owning my 30-year-old boat is probably less than a week's vacation in the Caribbean. And the enjoyment I get out of it is, well, priceless.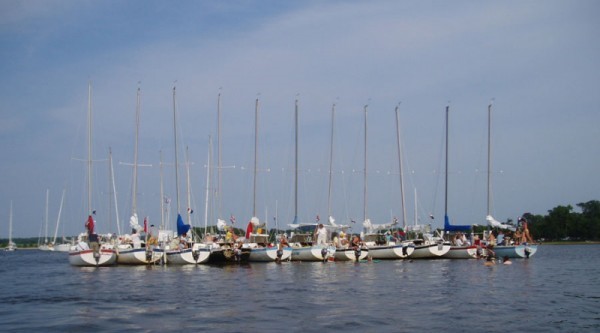 Curious as always about other people's boats (OPB), I got to thinking about what might constitute the "everyman (or woman) boat," a boat that is affordable, but fun and fast; one that is entry-level but with a pedigree for quality and venerability. Several might fill the bill, but the Cal 25 presents a strong case. For those on a budget, Cal 25s are hard to beat. They are cheap to buy, cheap to own, tough, and fun to race. In addition to active class associations based in Detroit, Port Huron, MI, and southern California, the Bay has found a home for them, too. Charlie Husar of Annapolis knows all of this probably better than anyone. He broods over a dozen of them on Spa Creek in his capacity as Chesapeake Cal 25 Association fleet captain.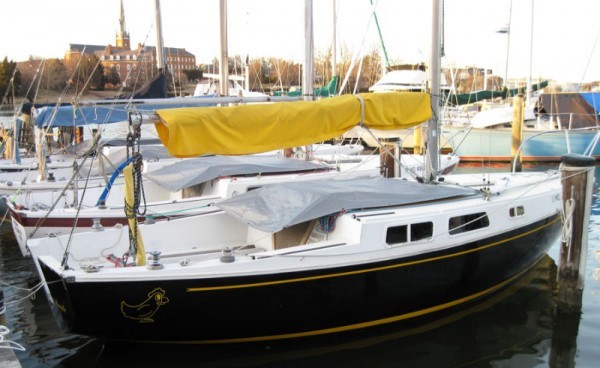 Designed by Bill Lapworth and built originally by Jensen Marine, the Cal (short for California) 25 quickly earned a reputation around the marks. Starting in the early days of fiberglass, they are also bulletproof. The hulls are thick and solid, reflecting the as yet unknown lifespan of the material. About 1850 of them were built between 1965 and 1976. Marketed as racer-cruisers, the boat actually is a respectable racer; but as for cruising, let's just say "serviceable" for a weekend. Husar estimates there are 40 to 50 Cal 25s on the Bay.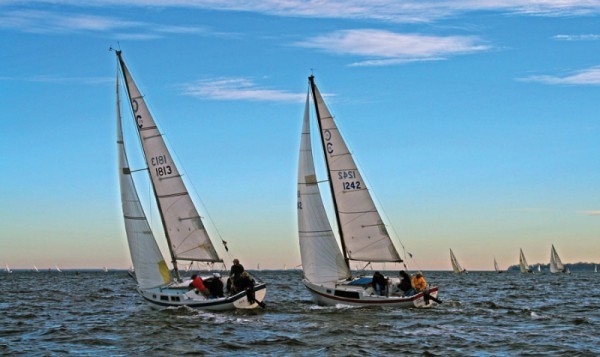 The sloops are distinguished by their spoon bows, counter stern and most notably, a flush deck all the way forward like an aircraft carrier. Standing headroom is only achieved with the pop top. A completely different second generation Cal 2-25 or MKII came out in 1977, but never caught on as a racer. My friend Mark Gradecak owned both models, but preferred the optional Yanmar inboard and actual headroom of the latter boat, though he admits the former was faster.
Husar seems to be the unofficial source of Cal 25 parts and repair solutions to keep the boats alive. North Sails can turn out stock mains or jibs as needed. Rubrails are a problem, so Husar bought 10 of them. He gets port lights from a California company that already has the templates. Much of his time is spent helping others keep the fleet going, and there isn't much he doesn't know about solving the inevitable problems that boats from the time of the Nixon administration can present. Husar's own boat, Chicken Little, turns 40 this April, the youngster of the fleet.
A good deal of post-race gamming takes place on the docks among the tight little group. In short, the Cal 25 entices the sailor short on cash or just wanting to downsize with very appealing charm. Husar says you can buy a tired boat for a buck, or a tricked out one for $6000-$7000. Either way, you'll have a blast of a time with this tried and true classic, and there's a good bunch of folks eager to help along the way.
Author: Steve Allan