Lake St Clair, Aug 10 – 13
This year's hugely successful Cal 25 National Championship was cohosted by Bayview and Crescent Sail Yacht Clubs. As part of the registration, each owner received customized caps for the crew featuring their boat's name and sail number, 5 dinner tickets and 5 raffle tickets. Moreover, owners and crew members purchased customized shirts showing off regatta apparel with the boat name and sail number.
Matt Bounds, PRO, and his RC crew insured the best possible courses with the varying wind conditions. Luckily, our Chief Judge, Clark Chapin, didn't have any protests requiring a decision. The crews were aggressive but fair sailing prevailed and penalty turns were self-administered when necessary.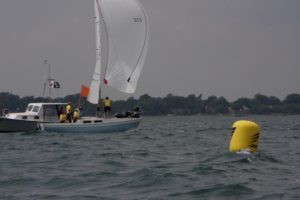 Detroit sailing conditions at its finest provided three days of outstanding racing. The varying conditions tested the crews at the heavy end of medium wind on the first day to light & lumpy conditions on the last day and everything in between.
We had twenty-five Cal 25 crews eager to prove themselves the best amongst a very formidable talent pool. Out of town boats included Art and Scott Melendres from Long Beach, Tim Bloomfield from Annapolis, and Scott Austin from Port Huron.
Kegs awaited crews after each day of racing along with daily trophies for every race going 4 places deep. Racing stories could be heard of what could have, should have and what actually did happen among all the participants.
Stu Dees, CSYC chief chef, oversaw a fantastic BBQ dinner with burgers, brats and all the fixins. Not long after our Cal 25 style of fine dining was complete, the much anticipated raffle commenced with over $3500 of items provided by our many sponsors – check out our sponsors on the right hand side of this page and patronize their businesses. Dave Simon – as only he can – provided a good hour of entertainment as he called the raffle. To keep things fair, Theo Ryan hand drew each ticket and passed them to Dave to call out the lucky winners. Theo's father, Erik, in the meantime was busy making drinks and sponsored the blender bar! – blended drinks were in high demand!!

Before the presentation of awards Sunday, Hans Brieden and Jerry Lohmeyer commodores of BYC and CSYC, both provided a few words before the US Sailing President, Bruce Burton, addressed the sailors with some words about the caliber of sailing in this fleet and the Detroit area.
The Target Practice Team led by Erik Ryan and Adam Hollarbach have proven themselves once again the best team. They sailed an impressive series topping the fleet of twenty-five Cal 25s. Close behind and threating to win the National Championship for themselves were Marc & Eric Hollerbach's Pagan Baby crew. Paul & Ross Nuechterlein's Never Alone was never far out of first place and sailed a great series to capture third place. John & Tracy McAllister's Patriot crew bested the fleet on the final day to break a three way tie for fourth place. Rounding out the top five boats was John Harper's Whitefang.
Approximately 40 volunteers assisted in putting on this year's Cal 25 Championship. Thanks for all that assisted in putting on this first rate and fun regatta. Special thanks to Libby Schudel for acting as regatta coordinator and Kudos go out to Sandy & Jeni, Albatross. Albatross went the extra mile to ensure delivery of the caps and shirts, even taking last minute orders.
All in all, this regatta was well planned, well attended and provided three days of outstanding sailing. All competitors enjoyed the racing, making new friendships and are already looking forward to the next National Championship.
-John McAllister
US466 Patriot