Results (Sept 3 - Sept 5)

| PL | Sail | Yacht | Owner/Skipper | 1 | 2 | 3 | Pts |
| --- | --- | --- | --- | --- | --- | --- | --- |
| 1 | 1633 | Draco | Brian Shenstone & Bob Orr | 2 | 2 | 3 | 7 |
| 2 | 1226 | White Cap | Tim Bloomfield | 4 | 4 | 1 | 9 |
| 3 | 17850 | One Time | Art/Scott Melendres | 1 | 1 | 9 | 11 |
| 4 | 1606 | Kigare | Erik & Marty Lostrom | 6 | 3 | 4 | 13 |
| 5 | 5854 | Makani | Jim Burdick | 3 | 6 | 8 | 17 |
| 6 | 869 | ZEPHYR | David Hoyt | 5 | 5 | 7 | 17 |
| 7 | 478 | Love Shack | Barton Goldenberg | 7 | 10 | 5 | 22 |
| 8 | 681 | Ronin | Peter/John/Christopher Sheils/Wooldridge/Rogers | 11 | 11 | 2 | 24 |
| 9 | 1657 | Chicken Little | Charlie Husar | 12 | 8 | 6 | 26 |
| 10 | 1297 | Quintet | Mike Miller | 8 | 7 | 11 | 26 |
| 11 | 1203 | Harlequin | Leo Surla | 9 | 12 | 10 | 31 |
| 12 | 460 | Fahrvergnügen | Steven Milby | 10 | 9 | 12 | 31 |
Scoring System is ISAF Low Point
2016 Cal25 National Championship Results
Draco wins the 2016 (50th) Cal 25 National Championship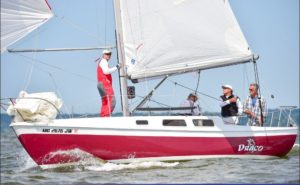 Draco, owned by Brian Shenstone and Bob Orr, won the 50th Cal 25 Nationals held in Annapolis, MD (Sept 3 through Sept 5).
Hurricane Hermine threatened the Atlantic Coast over the Labor Day weekend and the winds ranged from heavy to light & variable with everything in between.
The Draco crew of Brian Shenstone, Bob "Hurricane" Orr and Peter Becker of Bayview Yacht Club together with John McAllister and Paul "Loose Canon" Nuechterlein of Crescent Sail Yacht Club prevailed with consistency and skill in all weather conditions.
Initially, it looked as if the entire regatta was going to be a bust as winds were predicted to be in the high 20's with gusts in the 40s and torrential rain – with winds escalating throughout the weekend.
In fact, day one was cancelled early morning due to Hermine's high winds and waves on the Chesapeake. All crews enjoyed the day off with touring Historic Annapolis and engaging in pub crawls.
On Sunday, Hermine stayed out in the Atlantic and three races were held. The winds were their strongest during the first race.
The Californians – Art and Scott Melendez and crew – sailing One-Time, dominated – getting out in front at the start and staying out front. Their upwind speed was unparalleled. Draco pulled off a second with Jim Burdick and the Makani crew taking a third. The wind lightened up a little bit for the second race and the Californians managed to pull off another bullet, with Draco taking yet another second. Krigare, owned by Eric and Marty Lostrom, rounded out the top three.
The wind continued to lighten up more in the third race, and after a couple lead changes, the locals – Tim Bloomfield and the Whitecap crew took a first; followed by the Ronin crew – Peter/John/Christopher Shiels/ Wooldridge/Rogers – coming in second. Draco was pressing and ended with a close third.
Consistency paid off – putting Draco in first place at the end of day, with White Cap in second, followed by One-Time/Emesis.
Charlie Husar poured some Dark and Stormys and other libations at the Burnside dock after the first day of racing. Needless to say, all the crews thoroughly enjoyed the refreshments!!
On Monday, the course followed government markers and the race committee set a course resembling a square with an anchored freighter complicating one of the lay lines. The leaders fought it out in this race, only to succumb to a time limit, with the race not counting. The race committee was hopeful to get off another race, but the wind died completely, ending the regatta.
Annapolis pulled off a great event despite Mother Nature serving up a hurricane and threatening weather for the weekend. The hospitality was outstanding and the competitors, guests and members of the hosting yacht club had a wonderful time.
Congratulations to Draco for an unprecedented eighth win for the boat and seven National Championships for Brian Shenstone and Bob Orr.  Click here to see more …
Click here to see Bob Orr's Racing Recap