The Cal 25 is one of the most popular and successful Cals ever built. Over 2,000 hulls were constructed, and although they were designed over 40 years ago, they remain one of the more popular one-design racing yachts throughout the U.S. with fleets in Detroit, MI; Annapolis, MD; New Orleans, LA; Long Beach, CA and more.
The boat was designed by Bill Lapworth and made by Jensen Marine in Costa Mesa, CA.
They are also one of the first boats to be designed as Racer/Cruisers which have both a cruising interior, but are set up for racing. They are also quite affordable, and relatively inexpensive to maintain. A well equipped Cal25 can be had for around $4000. Problem areas include the plywood cored deck, and transom. But the hull is solid glass and rarely has any problems.
The Everyman Boat: The Cal 25 –  SpinSheet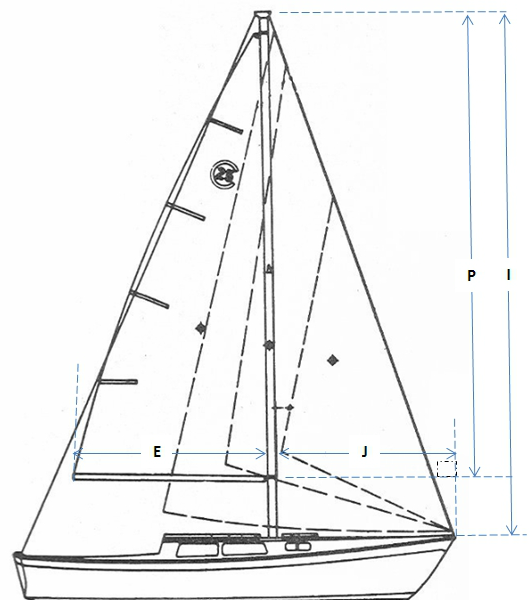 CAL25 Information

Hull Type:

  Fin w/spade rudder

Rig Type:

  Masthead Sloop

LOA:

  25.0 ft

LWL:

  20.0 ft

Beam:

  8.0 ft

Sail Area:

  286 ft2

Draft:

  4.0 ft

 

Displacement:

  4,000 lbs

Balast:

  1,700 lbs

 

 

I:

  29.8 ft

J:

  10.0 ft

P:

  25.0 ft

E:

  11.0 ft

 

 

Sail Area (Fore):

  149.0 ft2

Sail Area (Main):

  137.5 ft2

 

Builders:

First Built:  1965     Last Built: 1976     #Built: 2000

 

Jensen Marine/Cal Boats
Calgan Marine Ltd. (CAN)
Bangor Punta Corp

Designer:

C. William Lapworth
Excerpts from an interview conducted in 2004:
William "Bill" Lapworth was perhaps the foremost West Coast Naval Architect in the post World War II period. Born in Detroit, Michigan, he attended and graduated from the University of Michigan with a degree in marine engineering and naval architecture. After serving in the navy during World War II, Lapworth settled on the west coast and became partners with Merle Davis who had a yacht design office in Los Angeles. Davis died less than a year later.
At first, Lapworth paid the bills by doing surveying work.
Soon he was designing a series of light displacement racing sailboats that began to win or place highly on the East and West Coasts, beginning with Flying Scotsman and Nalu II, 46′ — a four time Class C Transpac race winner and first overall in 1959. Next came the 50′ sloop Ichiban, second overall in the 1961 Transpac. By 1958, more than 70 of the wooden L-36′ sloops had been built; but, by then fiberglass was becoming the material of choice.
All this attracted the attention of boat builder Jack Jensen who, one day walked in to Lapworths office and, with a handshake, was to form one of the most successful relationships in yachting history.
The first boat boat for Jensen was a 24 footer which Jensen proposed to be called the Lapworth 24. But Lapworth felt that since he had previously designed a 24 footer for someone else, a new name was called for.
According to Lapworth, this is when they decided on the name 'Cal' boats.
Together, Lapworth and Jensen produced thousands of boats including the Cal 20 (the most successful with more than 1,900 boats produced from 1961 to 1972), 24, 28, 29, 30, 33, 34, 36, 39, 40, and 46. The Lapworth/Jensen association continued until the Jensen's death in 1980.
In is later years Lapworth kept his own Cal 46 which he said was the favorite of all his designs.
Jensen Marine/Cal Boats
1956-1989
 Founded by Jack Jensen and originally located at Costa Mesa, CA. The company first sold the centerboard LAPWORTH 24 designed by Bill Lapworth. The Lapworth's 24 sold well. The name was first changed to CALIFORNIA 24 and then CAL 24. The name Cal stuck with the company until it closed in 1986.
The 24 was a success and Jensen hired Lapworth to design several more yachts including a 27 foot pop-top racer/cruiser. (there would ultimately be 3 Cal 27's)
The CAL 40 was introduced in 1963. These yachts became one of the most celebrated production racings yachts of all time.
Bangor Punta purchased Jensen Marine in 1965*.
Boats were still listed as being built by Jensen Marine for a number of years after this date. Jensen Marine also built RV/Motor homes for few years at the Costa Mesa plant.
The Cal Yacht factory was moved to Tampa, Florida in January of 1981. The factory remained in Tampa until March of 1985. It was then moved to Fall River, Massachusetts and was managed by Jim Hunt, son of yacht designer C. Raymond Hunt. Bangor Punta also owned O'Day Yachts and Prindle Catamarans.
Later there was Siegler Marine, Starcraft Sailboat Products, and then finally just Cal Boats. If all the later takeovers are included, Cal boats continued to be built until 1989.
(Eds. note: An attempt was made to list the boats as they were named by the manufacturer. For example, the second version of the CAL 30 was called the CAL 2-30. In cases where a later model used the same name as an ealier one, the boat is listed here with a unique identifier in parenthisis, such as CAL 24 (HUNT)to designate it as a separate model.)

Calgan Marine Ltd. (CAN)
1962-1979
 Founded by Al Nairne. Based in Vancouver, BC. During a visit to California, Nairne saw a CAL 20, and was so impressed that he made arrangements with Jack Jensen of Jensen Marine to build Cal boats in Canada. Calgan built some 300 Cals (20′ 25′ 28′ 29′), and developed its own line of Crown/Calgan sailboats, at its plant on Crown Street in North Vancouver, BC.

Bangor Punta Corp.
1964-1984
 Bangor Punta Corporation (traded on the NYSE under BNK) was an American conglomerate and Fortune 500 Company founded in 1964. It bought out O'Day Corp. and Jensen Marine as well as a number of other well-known companies primarily in the pleasure craft, firearms and general aviation industries. It was acquired by Lear Siegler, Inc. in 1984.

The Cal 25 National Class Association
By Peggy Walsh-Sarnecki reprinted here with Permission of The Detroit Free Press
Love to own a sailboat but leery of those boat-show price tags? Stop worrying. There are used boats out there that are every bit as much fun as a new boat, and that leave you enough cash to pay for the slip. One good candidate is the Cal 25, said Peter Wenzler, Bayview Yacht Club's race chairman.Wenzler has a Cal 25 named O. Henry, and he's sold on this class of boats for beginners and advanced sailors alike.
"It's very affordable," Wenzler said. "You can get into them for about $2,000 (see the Classifieds) at the low end and about $5,000 at the top." Beginners will like its stability. The boat doesn't carry an excessive amount of sail. This means it's not likely to blow over in an unexpected breeze. It has a roomy cockpit with bench seating for six, and it sleeps four.
Experienced sailors will like the one-design racing in a competitive fleet. Don't be put off by the PHRF rating of 222. It doesn't matter what the numbers are when you're on the starting line jockeying for position — you'll have your share of thrills.
They just won't die
Cal 25s were built from 1965 to 1972, but the class just won't die. Bill and Sally Martin of Ann Arbor are two of the most experienced sailors in the area. Their Santa Cruz 70, Stripes, is a consistent Port Huron to Mackinac contender in the big boat class. They started sailing in a Cal 25 called Getaway. They had the boat for six years and then did what most big boat sailors do: progressively moved up in size until they landed in their 70-footer.
Recently their son found an old Cal 25, and the Martins are back to racing with the Cal 25 fleet in the National Offshore One-Design Regatta, commonly called the NOODS, and the annual end-of-season race from Bayview Yacht Club to the North Channel.
Their new Cal 25's name is reminiscent of the days when the Martins named three of their boats, including the current one, Stars and Stripes. Then Dennis Conner stole the name for his America's Cup boat and the Martins re-christened theirSanta Cruz 70 Stripes. The new Cal 25? It's named Stars &.
"It was in the boneyard. The best thing that could have happened to it was a mercy killing," Martin joked about his new boat. He restored the boat a little more meticulously than the average Cal 25 owner. He won't say how much he's spent on it — he says he doesn't even know.
'The best deal going'
But talking to Martin, it's clear it's a labor of love. "It is the best deal going," Martin said. "I think in particular in the Detroit area for a boat, because it can do everything you want it to do. If you want to go out with your family and day-sail, it's easy to sail. If you want to take your family and go overnight, you can do it. And if you want to race it, it's got an incredibly great one-design class." "And …they are dirt cheap," Martin said.
Wenzler said many of the older boats need to have the decking plywood replaced and a support beam placed under the mast. Some of the boats on the market have had this repair.
But if it hasn't been done, it's a job the owners can do by themselves, Wenzler said. He even offered to tell Cal 25 owners how to do it, if they just stop in and see him at work. He's manager of Thomas Hardware in Grosse Pointe Farms, where many local sailors go for their nautical needs. "In the last three or four years, we've had a real resurgence of the class," Wenzler said. "With a little elbow grease, it doesn't take much to get them competitive."
Peggy Walsh-Sarnecki can be reached at by E-mail at pwalsh@freepress.com